Category Archives:
givaways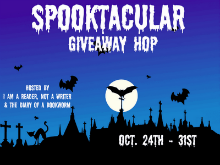 Have I said before how much I love this time of year?
Mmmm. Fall. Halloween. English Toffee lattes and Sweet potato pies.
And of course, for all the wonderful chances to get FREE books and swag through the seasonal Blog hops! I'm participating in one such Halloween hop that has soooo many participating Authors and sites that my head is spinning and I'm giddy with the excitement of it all.
In case you don't understand how a "hop" works, just click the banner above  and find yourself with gads of other sites to "hop" on over to. Each site is giving something away, whether free books or cool swag, so definitely check out the other sites and see what you can win!
Now, for my Giveaway:
I'm offering up a paperback copy of Kill Me for your reading pleasure, an ebook copy of Kill Me, and a cool little mini-poster that features the Kill Me cover art (autographed too!)
After waiting several weeks (and chanting in the moonlight, and chasing a rabbit so I could pet it's foot) Amazon has finally lowered the price of KILL ME to $0.00 – so it's finally FREE! I have no idea how long the mighty 'Zon will keep it free, so I'd suggest you hop on over there and snag a copy pronto. (Ebook is free. Not the paperback)
For those of you without an eReader, or who just prefer a physical copy in your hot little hands, I'm also running a paperback giveaway over on GoodReads, so there's still hope for you yet!
BOOK BLURB:
Three days ago, she was a wife, a mother, and very much alive… then the music called to her.
Marketing maven Claire has one goal for the Music Expo– to land a few whales so that her boss will give her a badly needed raise. She puts on her game face and courts the industry's elite until her plans are derailed by hotness-in-high-heels.
Vampire Bette wants to find a human with untapped talents that she can mold and control. Using a haunted violin, she lures Claire in with her lilting song and bewitching smile. In that moment, Claire's life is unraveled and she finds herself with more than strange dreams and overdue bills to worry about. Much more.
To make matters worse, Claire is attracted to two unlikely people– Bette and her hunky but pale associate, Gregor. Both can light Claire's fire, but is either of them the only one?
Unfortunately for Claire, life isn't all song lyrics and seduction. Tied to darkness by blood and power, Claire must harness her abilities if she has any hope of returning home to her daughter and regaining her former life.
REVIEWS:
"When I started reading Kill me, the first in a trilogy by new author Alex Owens I expected the usual – Vampires, Intrigue, Drama and a little bit of Spice.  What I did not expect was the hilarious writing! A few pages into the book and it is crystal clear that Owen's strong suit is her ability to hit the funny bone every few sentences. "   ~
Aditi, READioactive Book Blog
"Not your traditional, action-packed vampire tale, but it is one that's full of conflict – emotional, psychological, and (at times) extremely physical. Fast, fun, and . . . dare I say it, empowering . . . this is a wonderful story and one that will leave you anxious for more." ~Sally, Bending the Bookshelf Blog
"Overall, a fun, indulgent novel that will appeal to any woman who has struggled with being a working mom and wished for secret powers." ~ Christine, Ensconced in YA
"I made time for this book. I wanted to know what was going to happen next." ~ Mark, Masquerade Crew
Related articles
Yay! the blog tour for Kill Me is on… and I've decided give away some cool prizes in celebration! Check it out and earn your contest entries.
One lucky winner will receive a $25 Amazon Gift card, because a QuirkyGurl can never have too many books.
One lucky winner will receive a $15 iTunes gift card, in honor of the moderate musical theme in Kill Me.
One very lucky winner will receive a Kick A** Swag pack, including a signed paperback copy of Kill Me and some other fun gifts.
Giveaway dates will run from April 22nd – May 5th at midnight. Winners will be notified shortly after the contest ends. So how do you win?
To enter for a chance to win one of the prizes, you can do one (or more) of the following:
Additionally, doing one of the follow will not only earn you good karma, but bonus chances at winning:
Tweet the book's amazon link:       "Check out the new #kindle #ebook 'Kill Me by Alex Owens'- music, magic, fangs & freaks. http://amzn.to/JdV19o #bloodchordseries "         (you can change the text however you see fit, but the book link and the #bloodchordseries must be posted so I can track the tweets.)
If you've read the book and liked it, consider reviewing it on Amazon, LibraryThing, or Goodreads.
Post a link to this giveaway or to Kill Me's Amazon page on your own blog, facebook, etc.
After you've done at least one (or more) of the above, you must leave a comment on this post so that I know what you've done. Thanks in advance, and good luck!
Related articles